ABOUT US
At Blossom, we cultivate opportunities, craft quality products and celebrate abilities!
Blossom is a unique work opportunity, employing adults and teenagers with developmental disabilities. Our team produces amazing all-natural artisanal products while gaining meaningful employment and learning skills that last a lifetime. 
81% of individuals with developmental disabilities are unemployed.* We know that many of these folks are able and willing to work given the right environment and support. Blossom provides a culture of empowerment that fosters independence.
Our artisans are responsible for each phase of the business, from hand producing our soaps, candles and bath teas to packaging, shipping and sales.
Blossom has recently expanded and we're now taking wholesale orders.

*National Core Indicators Report
From Pour To Door
The individuals we serve are involved in every step of the Blossom process.
PRODUCTION
Handcrafting our all-natural products
SHIPPING
Packaged with care
SALES
Telling our story and sealing the deal
100% of all Blossom proceeds go to providing jobs and services to individuals with developmental disabilities.
A Branch Of Quest, Inc.
Blossom is a social venture created by Quest, Inc. that provides a safe and supportive work opportunity for adults and teenagers with developmental disabilities.
For 60 years, Quest, Inc. has transformed the lives of thousands of adults and children with developmental disabilities through a range of services proven to increase capabilities and quality of life. Through quality and innovation, Quest's mission is to build communities where people with disabilities achieve their goals.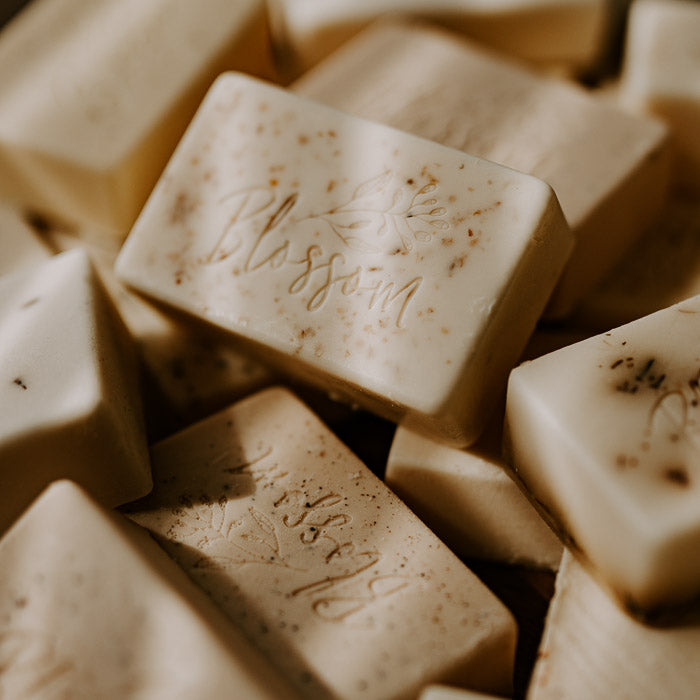 Our Products
Blossom products are all natural and handmade in small batches. Our goat's milk soaps, soy wax candles and essential oil bath teas provide clean, nourishing and sustainable options for customers. Blossom only uses sustainably sourced palm oil by vendors who are members of the Roundtable on Sustainable Palm Oil (RSPO).
Frequently asked questions
Where do you ship from?

We ship from Orlando, Florida. We currently ship orders to locations across the continental United States.
What is your return policy?

We do not accept returns. We will accept exchanges within 30 days from the purchase date as long as the soap remains in the original packaging and unused.
What is the shelf life of the soap?

An unused bar of soap can last between 1 and 3 months. It is recommended to use the soap as soon as it is received for an optimal experience.
Does Blossom use sustainable palm oil?

Blossom only uses palm oil that is sustainably sourced by vendors who are members of the Roundtable on Sustainable Palm Oil (RSPO).
Is your shrink wrap eco-friendly?

We use only 100% biodegradable shrink wrap to ensure freshness in our goat's milk soaps and to package our small gift bundles.